Services
Traditional water heaters can account for up to 40% of the electric bill. You can eliminate up to 85% of the energy used to heat water with the installation of a solar hot water system.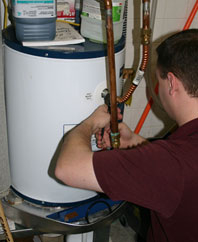 Installing a solar heating system is a wise investment that is good for the environment and can save you money on your utility bills.
In addition, solar heat is the best option for people with allergy problems or chemical sensitivities because it doesn't require any fuel tanks or flammable materials that can cause numerous problems, from odors to safety hazards.
Our services include:

- Obtaining Permits
- Purchasing the system
- Installation
- Repair
- Maintenance and Safety Inspections
Perrin Plumbing LLC is licensed and insured and experienced in all matters of solar heating system installation. We provide free consultations to help you pick the right system for your needs and budget.
.
.